MySpace is Rockin' for Darfur
I'll admit — sometimes I get a little lost in the wide world of music blogging and I pay a lot more attention to Tenacious D tour dates and a lot less attention to national (and international) issues…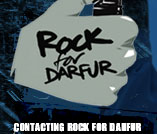 There's a humanitarian crisis going on right now outside our little US comfort zone. The Darfur region of the Sudan is in the midst of a genocidal war between the Janjaweed military group and the smaller tribes that they're hoping to irradicate, and MySpace (of all companies) is stepping up and trying to do something about it.
In comes the Rock for Darfur concerts scheduled for October 21, 2006…
22 bands will be taking part in benefit concerts designed to raise and stimulate money, awareness, action, etc.
Rock for Darfur concerts on October 21 include:
Alice in Chains, Winston-Salem, NC, Millennium Center
Ziggy Marley, Medford, OR, Main One Center for the Arts
The Fray, Toronto, Ontario, Kool Haus
TV on the Radio, Philadelphia, PA, Starlight Ballroom
Atreyu, Baltimore, MD, Sonar
+44, Sacramento, CA, The Boardwalk
Secret Machines, San Diego, CA, SOMA
Insane Clown Posse, St. Petersburg, FL, Jannus Landing
Citizen Cope, Seattle, WA, Showbox
Teddy Geiger, Melbourne FL, King Center
Jamie Cullum, Reno, NV, Reno Hilton Theater
Amos Lee, Washington DC, 9:30 club
The Lost Trailers, Atlanta, GA, The Peachtree Tavern
Hotel Cafe Tour, Louisville, KY, Phoenix Mill Tavern
Slightly Stoopid and Pepper, San Francisco, CA, Warfield
The Wood Brothers, Charleston, SC, The Music Farm
Jars of Clay, Minneapolis, MN, Marantha Hall
Gov't Mule and Donavon Frankenreiter, Spokane, WA, The Big Easy
Benevento Russo Duo, Asheville, NC, The Orange Peel
Bob Weir & Ratdog, Milwaukee, WI, The Rave
If you can make it to any of these shows, you're doing your part to support a good cause. I'm always happy when I see announcements like this — people trying to help people — as I think the world could always use a little more give and a lot less take…
About the author
Justin Ward is the Editor at Live Music Blog and has been with the site from the very beginning. He currently lives in San Francisco and regularly tweets other stuff over @justinpward.
He also plays in NVO and sometimes calls himself dudha.us ("dude house"). Follow his projects over at JustinWard.org.
---
---